Search Results By Hashtag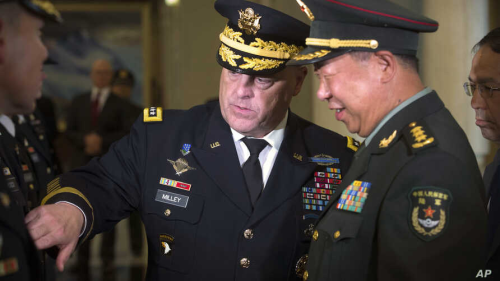 Gen. Milley held top-secret meeting to block Trump's nuke access; told staff to disobey all but his orders and undermined Trump White House with secret calls, promising to alert China of a potential U.S. attack.
In the days following the storming of the U.S. Capitol on January 6, Joint Chiefs Chairman Gen. Mark Milley held a top-secret meeting with senior military officials to take action against then Commander-in-chief Donald Trump, blocking the president from potentially launching nuclear weapons and ordering staff to ignore all orders except Milley's, a new book entitled "Peril" by journalists Bob Woodward and Robert Costa revealed, as reported by CNN.
Prior to taking action, Milley had multiple phone calls with China's top general and House Speaker Nancy Pelosi.
Milley's extraordinary efforts are detailed in Peril, a new book by Bob Woodward and Robert Costa
He told top military officials he was 'part of the procedure' on military actions
Called head of China's military two days after the Jan. 6th riot to reassure US was not about to attack
Chairman of the Joint Chiefs was concerned Trump might take rogue action to stay in office 
'We are on the way to a right-wing coup,' CIA Director Gina Haspel reportedly told Milley
'This is bad, but who knows what he might do?' Speaker Pelosi reported told him