YUGE! CANADIANS SHARE!
🍁 🇨🇦 #Canada 🇨🇦 💥Order No. 09082020-A💥
Breaking News -- 9.8.2020 🍁
💥 National Law Strikes Down #COVID1984 Measures,
💥 Empowers Citizens to Resist;
💥 Officials Ordered to Stand Down or be Prosecuted in Common Law Courts
--A Law was passed today by a council of Canadian citizens' assemblies that struck down and criminalized all COVID measures requiring #masking, #distancing, #quarantining, and #vaccines.
--Under the #new 🍁 Public Safety Law NCCLA Order No. 09082020-A,🍁 any attempt to impose such measures on #Canadians is considered a punishable #crime and can result in the arrest and trial of the offender, regardless of their office. Canadians are encouraged to actively resist #COVID measures, relying on the new law and local Common Law Sheriffs.
--The law was issued by the National Council of Common Law Assemblies (#NCCLA), which unites more than 40 such Assemblies across Canada within the jurisdiction of the #RepublicOfKanata. The NCCLA also issued a Stand Down Order to all #government, #police and '#health' officials that requires that they not enforce COVID measures and comply with the new law.
--Copies of the NCCLA documents are posted at http://www.republicofkanata.ca under "Media". Write to councilofassemblies@protonmail.com .
Posted 7-8 September, 2020.
#Video
🔹 https://www.youtube.com/watch?v=66seIj5nN9g
🔹 https://republicofkanata.ca/media/
#COVID19 #Tyranny #StandDownOrder #NationalCouncil #CommonLaw #Law #Kanata"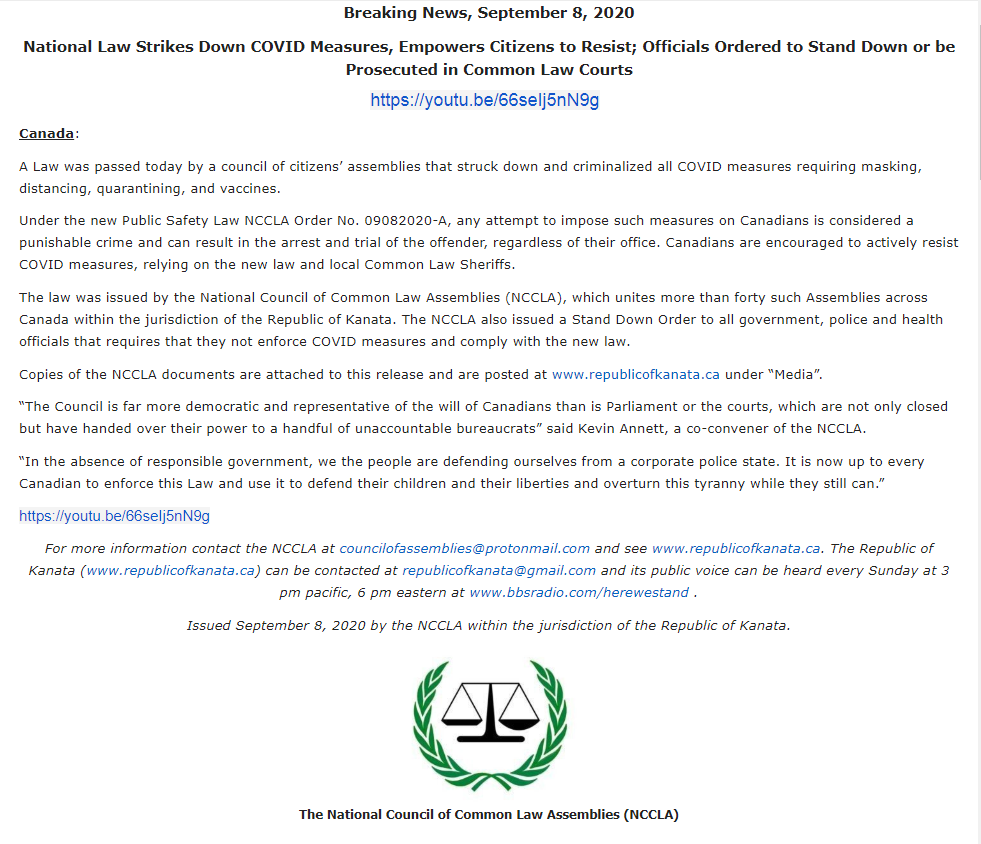 StreetLoc is one of America's fastest-growing Social Media companies. We do not employ woke kids in California to "police" your thoughts and put you in "jail".
StreetLoc is designed for Family, Friends, Events, Groups, Businesses and People.
JOIN TODAY