U.S. Israel & U.K. Accuse Iran of Ship attack, Threaten Response.
U.S. Israel & U.K. Accuse Iran of Ship attack, Threaten Response.
U.S- DEPARTMENT OF STATE
Office of the Spokesperson
For Immediate Release
STATEMENT BY SECRETARY ANTONY L BLINKEN
August 1, 2021
Attack on Mercer Street Vessel
We join our partners and allies in our strong condemnation of the attack against the Mercer Street, a commercial ship that was peacefully transiting through the north Arabian Sea in international waters.
Upon review of the available information, we are confident that Iran conducted this attack, which killed two innocent people, using one-way explosive UAVs, a lethal capability it is increasingly ernploying throughout the region.
There is no justification for this attack, which follows a pattern of attacks and other belligerent behavior. These actions threaten freedom of navigation through this crucial waterway, international shipping and commerce, and the lives of those on the vessels involved.
We are working with our partners to consider our next steps and consulting with governments inside the region and beyond on an appropriate response, which will be forthcoming. We once again offer our condolences to the families of the victims.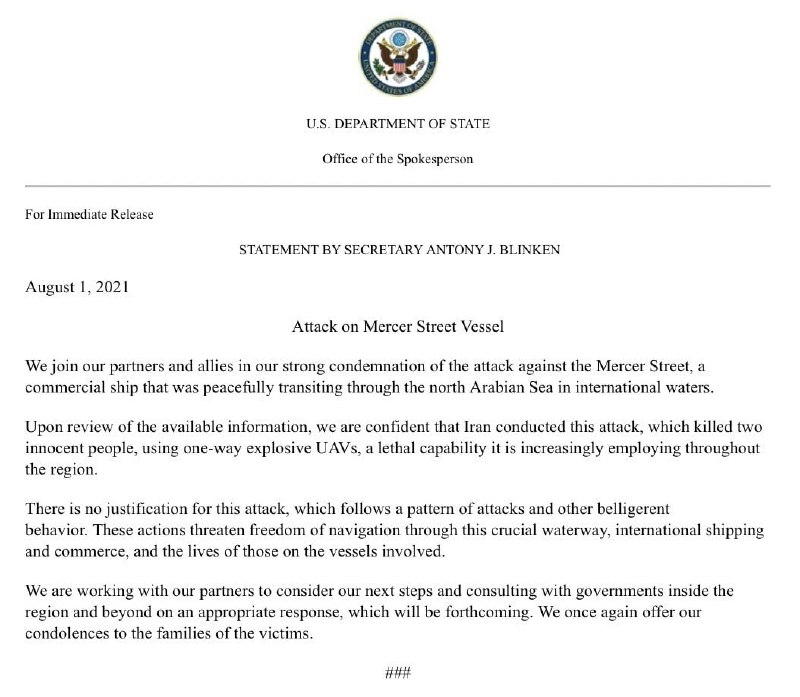 Prime Minister Naftali Bennett, at the Cabinet meeting today: "The world recently received a reminder of Iranian aggression, this time on the high seas.  The Iranians, who attacked the ship 'Mercer Street' with UAVs, intended to attack an Israeli target.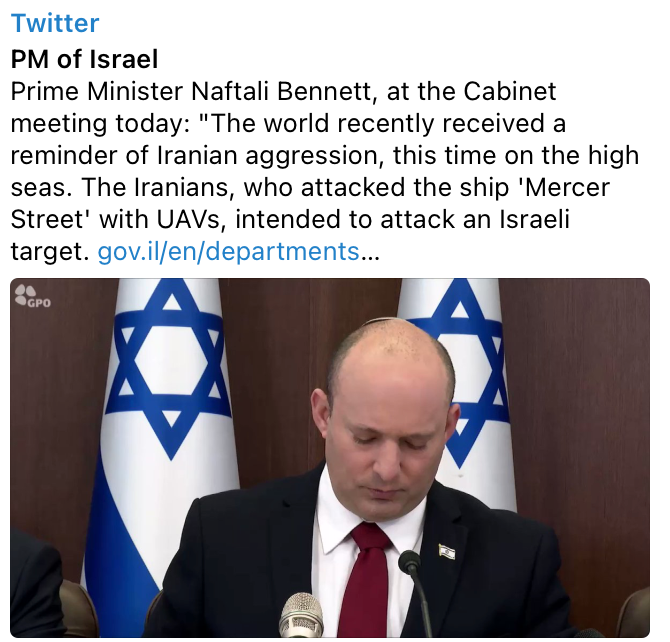 Britain accuses Iran of the attack on an Israeli-managed oil tanker that killed a Brit and a Romanian after a briefing by Israeli IDF Chief of the General Staff.
StreetLoc is one of America's fastest-growing Social Media companies. We do not employ woke kids in California to "police" your thoughts and put you in "jail".
StreetLoc is designed for Family, Friends, Events, Groups, Businesses and People.
JOIN TODAY