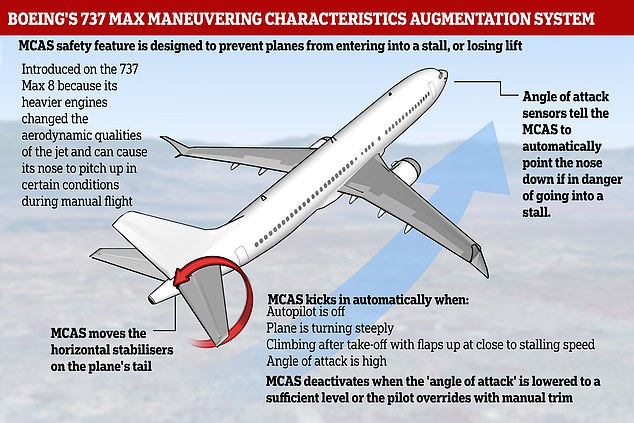 Doomed Ethiopia Boeing plane was set to 'DIVE when it crashed after take-off, jack-screw found in the wreckage shows
Read the full article on Daily Mail
A screw-like device discovered by investigators in the wreckage of the Boeing 737 Max that crashed in Ethiopia last Sunday indicates that the plane was configured to dive when it plummeted to the ground after take-off.
The horror crash killed all 157 people on board and prompted countries around the world to ground Boeing jets.
It has now been revealed that the discovery of the screw-like device at the scene finally convinced US officials to also ground the jet model.
The so-called jackscrew is used to set the trim that raises and lowers the plane's nose, according to a person involved in the investigation. 
A screw-like device indicated that the Ethiopia Boeing jet was configured to dive 
The discovery prompted officials in the US to decide to ground Boeing jet flights
Ethiopian Airlines plane came down on Sunday morning killing all 157 on board 
Read the full article on Daily Mail
StreetLoc is one of America's fastest-growing Social Media companies. We do not employ woke kids in California to "police" your thoughts and put you in "jail".
StreetLoc is designed for Family, Friends, Events, Groups, Businesses and People.
JOIN TODAY