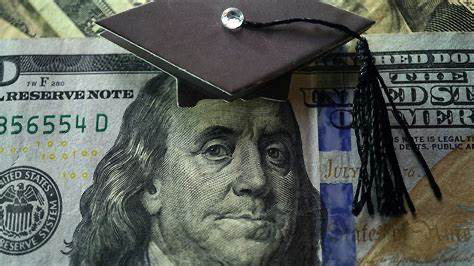 Biden to be Sued over Student Loan Forgiveness
US President Joe Biden announced his plan to forgive some student loan debt in the Roosevelt Room of the White House on Wednesday August 24, 2022. 
To find the authority to cancel billions of dollars in student loans, President Biden turned to two words in a 2003 law: "national emergency."
President George W. Bush had troops in Afghanistan and Iraq when Congress passed the Higher Education Relief Opportunities for Students Act of 2003. The bill, also known as the HEROES Act of 2003, gives the Secretary of Education authority to change student financial assistance programs during a war, military operation, or "national emergency."
The Biden administration's plan will erase the remaining student loan debt for about 20 million people, according to the White House, and alleviate debt for about 43 million borrowers in total. 
In the week since Biden's announcement, borrowers ranging from freshly minted college graduates to doctors to parents starting to save for their children's education have sounded off on student loan forgiveness, with some borrowers calling the cancellation "a betrayal"  to hard working Americans who have sacrificed to pay off their student loans, while others arguing that $10,000 isn't enough. 
Now a growing number of experts question the legality of President Biden's expensive student loan forgiveness program, South Carolina Republican Rep. Ralph Norman is predicting and calling for lawsuits to challenge the bailout.
Various conservative legal groups began exploring who would have legal standing to sue, which would require proving they would be harmed by Biden's order. One possibility: the House could sue over the order next year, if Republicans win enough seats to take control in the fall.
"It's on shaky legal ground at best," says Lanae Erickson, the senior vice president for social policy, education and politics at Third Way, a Washington think tank that looks for non-partisan policy solutions. Erickson is concerned that Biden's action overreaches in its reliance on the national emergency of the pandemic and that the courts will determine such a step requires congressional action. "The connection to the pandemic is pretty exaggerated, I think."
"This is illegal. The president doesn't have the authority to do this. He's not an emperor," Sen. Marco Rubio, R-Fla., said.
"He can't just with the stroke of a pen cancel $300-$400 billion worth of student loans."
Questions about the legality of student loan forgiveness came long before Biden's recent bill. They also began with one of his closest allies, House Speaker Nancy Pelosi.
"People think that the President of the United States has the power for debt forgiveness. He does not," Nancy Pelosi said on her website in July 2021. "He can postpone. He can delay. But he does not have that power. That has to be an act of Congress."
StreetLoc is one of America's fastest-growing Social Media companies. We do not employ woke kids in California to "police" your thoughts and put you in "jail".
StreetLoc is designed for Family, Friends, Events, Groups, Businesses and People.
JOIN TODAY