US Supreme Court strikes down landmark abortion decision Roe v. Wade
The US Supreme Court released its decision in Dobbs v. Jackson Women's Health Organization on Friday, voting to overturn Roe v. Wade — the 1973 ruling that guaranteed federal constitutional protections of abortion rights. This most recent case, which was heard by the Court in December 2021, centered on a Mississippi law banning abortion if the "probable gestational age of the unborn human" is more than 15 weeks. This ruling comes after a draft decision document that signaled this outcome leaked on May 2.
Jane's Revenge
Disturbing flyers urging residents towards violence started to appear in Washington, DC this week as the Supreme Court neared a decision on Roe v. Wade.
The flyers come from Jane's Revenge, a pro-abortion group that popped-up earlier this year after leaked documents hinted the Supreme Court was considering overturning Roe v. Wade. The extremist organization has committed numerous acts of vandalism, firebombing, and arson against pro-life counseling centers, crisis pregnancy facilities, and other businesses. Over 50 buildings have been attacked and/or vandalized in recent weeks.
"We need the state to feel our full wrath…We need them to be afraid of us," wrote Jane's Revenge in a letter posted to The Anarchist Library. "Whatever form your fury takes, the first step is feeling it. The next step is carrying that anger out into the world and expressing it physically. Consider this your call to action. On the night the final ruling is issued – a specific date we cannot yet predict, but we know is arriving imminently – we are asking for courageous hearts to come out after dark." #JanesRevenge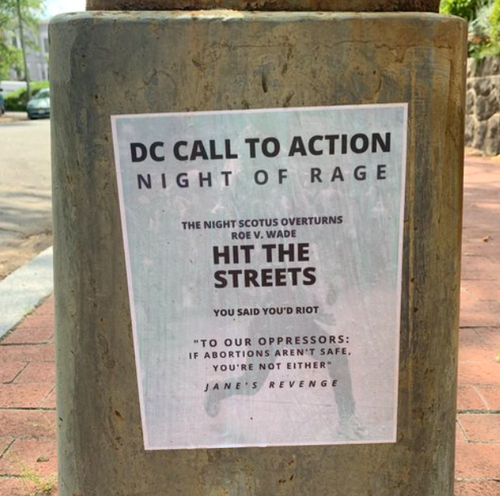 StreetLoc is one of America's fastest-growing Social Media companies. We do not employ woke kids in California to "police" your thoughts and put you in "jail".
StreetLoc is designed for Family, Friends, Events, Groups, Businesses and People.
JOIN TODAY