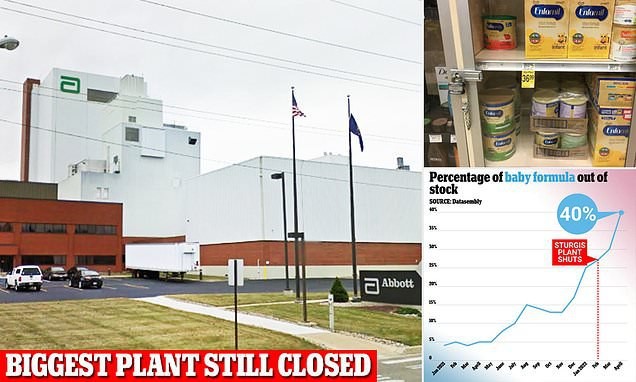 The FDA refuses to reopen America's Biggest Baby Formula Plant
Why is biggest baby formula plant in US STILL shut down after three months? Abbott says plant is safe and was not responsible for bacteria that killed two kids - but FDA refuses to reopen it as parents across US struggle to feed their babies
Abbott Laboratories claims it is not responsible for the bacteria outbreak that killed two babies. The formula manufacturer also said it is 'working closely with the FDA to restart operations' at the plant.
The baby formula manufacturer alleged an FDA investigation revealed 'infant formula produced at our Sturgis facility is not the likely source of infection'. Abbott claims products from the facility did not cause any bacterial outbreak 
The plant still remains closed despite the findings after shutting down in February amid a major product recall.
StreetLoc is one of America's fastest-growing Social Media companies. We do not employ woke kids in California to "police" your thoughts and put you in "jail".
StreetLoc is designed for Family, Friends, Events, Groups, Businesses and People.
JOIN TODAY