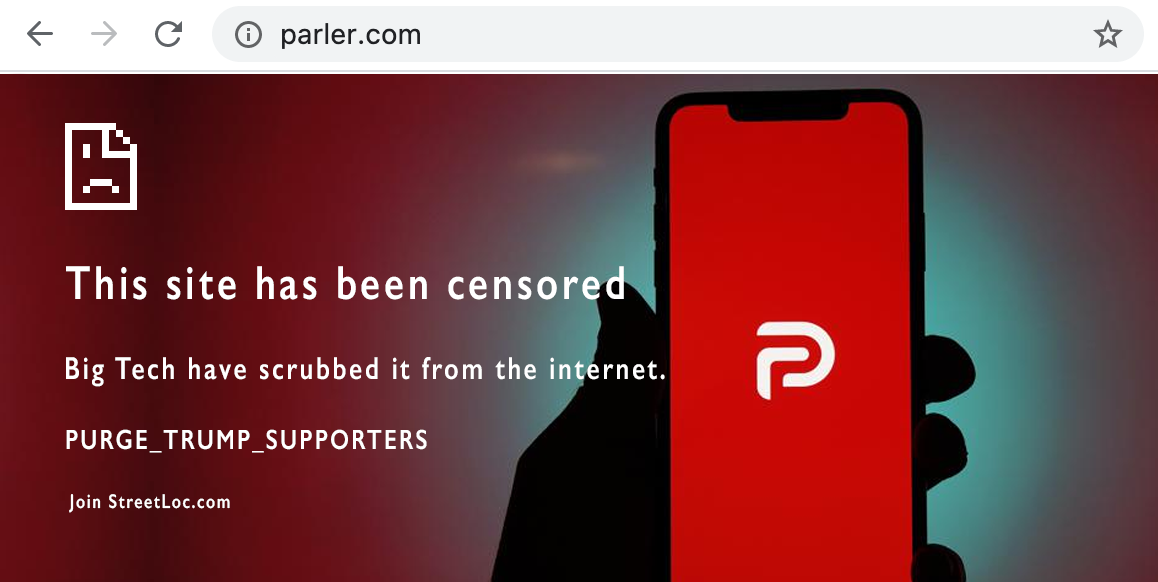 Purge 75 Million Starts Now - Parler Censored, Taken Offline
Parler has been scrubbed from the internet by big-tech for simply being a champion of the 1st Amendment and the fact that it could not actively police "speech" to a level dictated by big-tech and their ever moving goal posts. Parler has now been booted by Amazon, Apple, Google and most technology platfroms out there as they fear repossession from these tech-gods.
Parler hit headwinds Friday as Google yanked its smartphone app from its app store for allowing postings that seek "to incite ongoing violence in the U.S." Apple followed suit on Saturday evening after giving Parler 24 hours to address complaints it was being used to "plan and facilitate yet further illegal and dangerous activities." Public safety issues will need to be resolved before it is restored, Apple said.
Amazon struck another blow Saturday, informing Parler it would need to look for a new web-hosting service effective midnight Sunday. It reminded Parler in a letter, first reported by Buzzfeed, that it had informed it in the past few weeks of 98 examples of posts "that clearly encourage and incite violence" and said the platform "poses a very real risk to public safety."
"Every vendor, from text message services, to e-mail providers, to our lawyers all ditched us too on the same day," Matze said Sunday on Fox New Channel's "Sunday Morning Futures." He said while the company is trying to get back online as quickly as possible, it's "having a lot of trouble, because every vendor we talk to says they won't work with us, because, if Apple doesn't approve and Google doesn't approve, they won't."
Parler CEO John Matze said that the service will "likely be down longer than expected," in a post on the platform, prior to it's shutdown.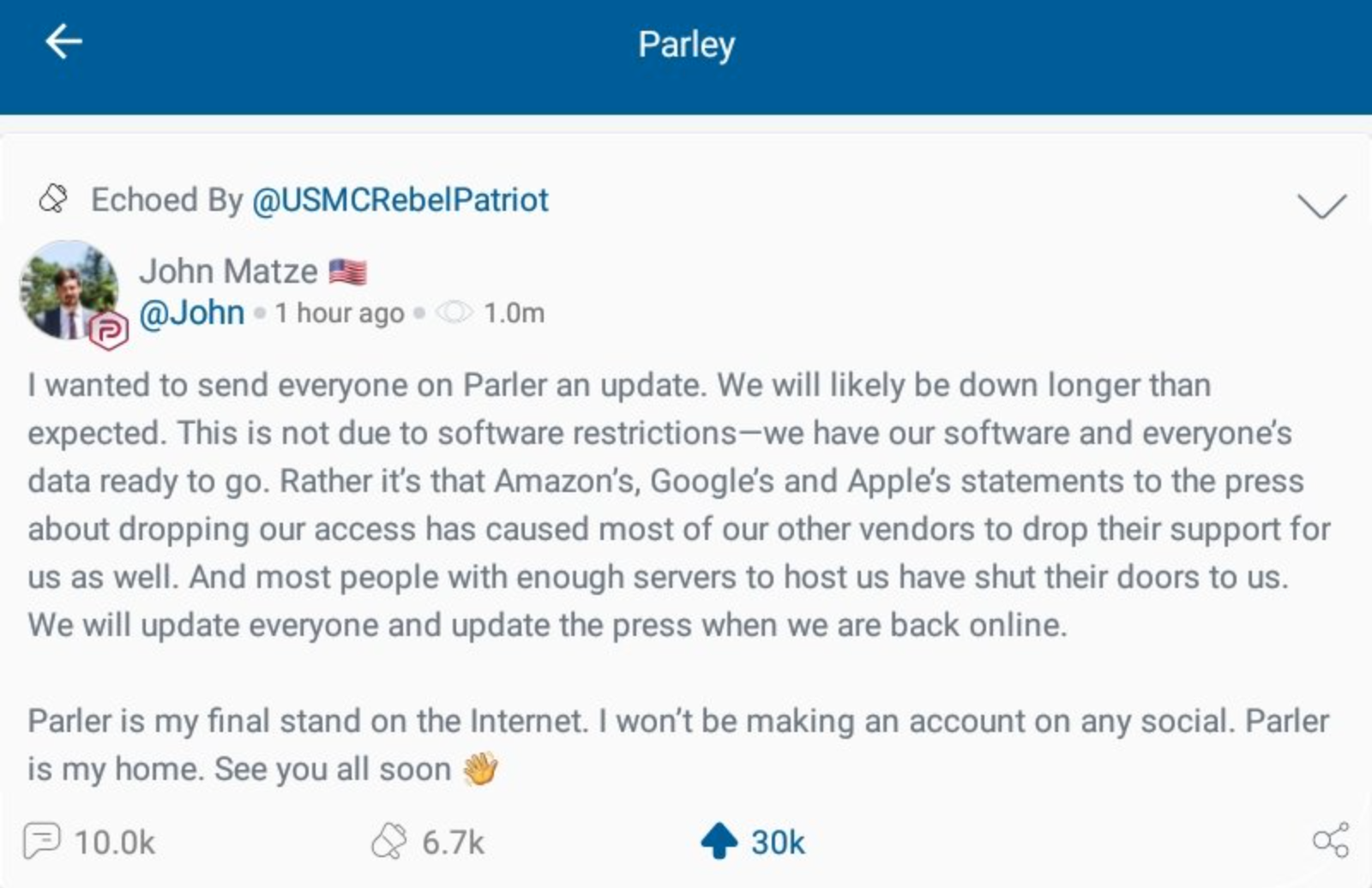 Twitter alt-far-left shared their opinion:
Yay! One step at a time... shut these maniacs down (or at least, make it more difficult for them to communicate and collude).

 Not only that, they got hacked right before the severs went down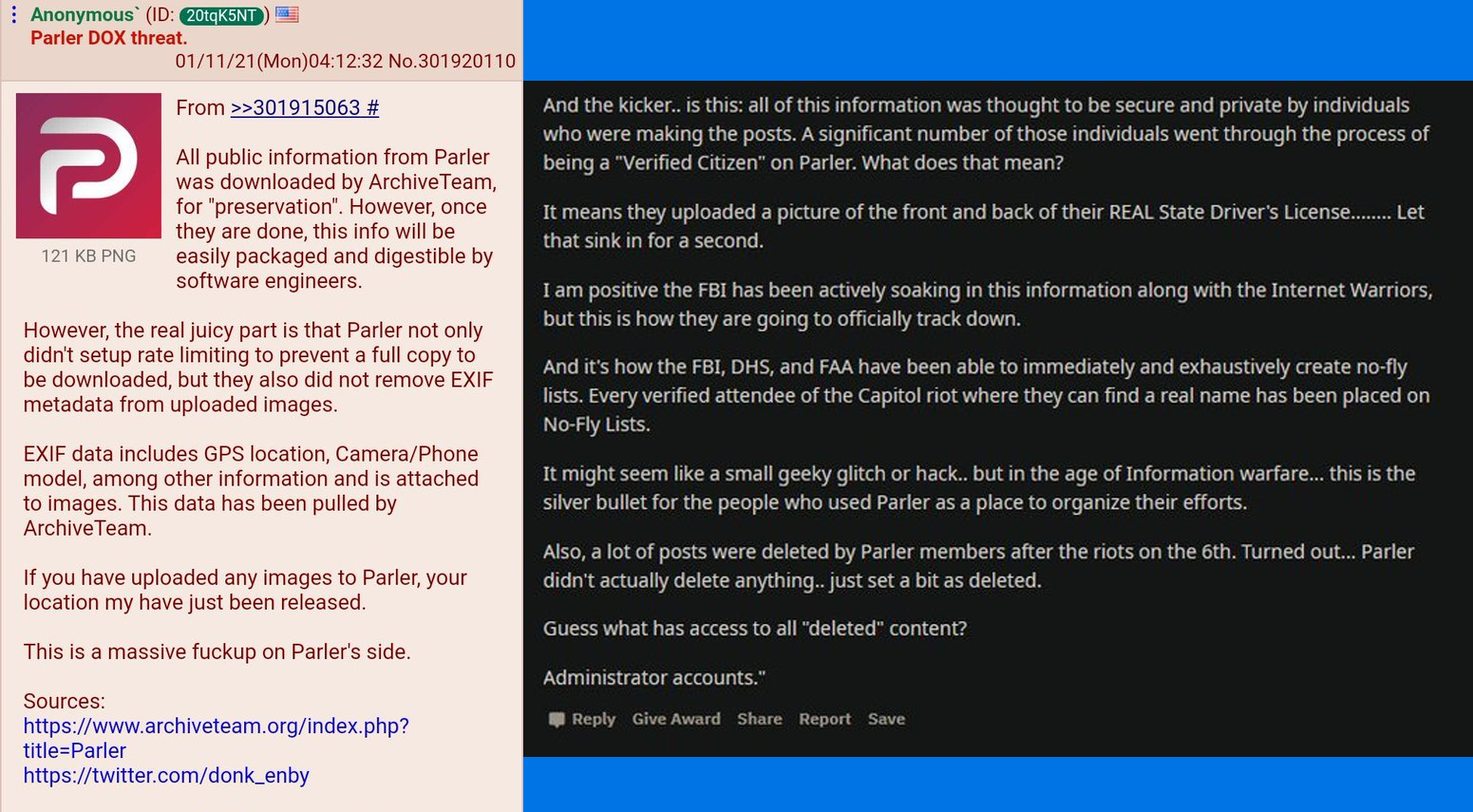 They are not gone. Nearly 1/2 of the American population supports sedition & treason, including people at the highest echelons on government. How do we get out of this without civil war?
Agree - what's the long term strategy here people. Almost half the country wanted to overturn the election. This is not going away.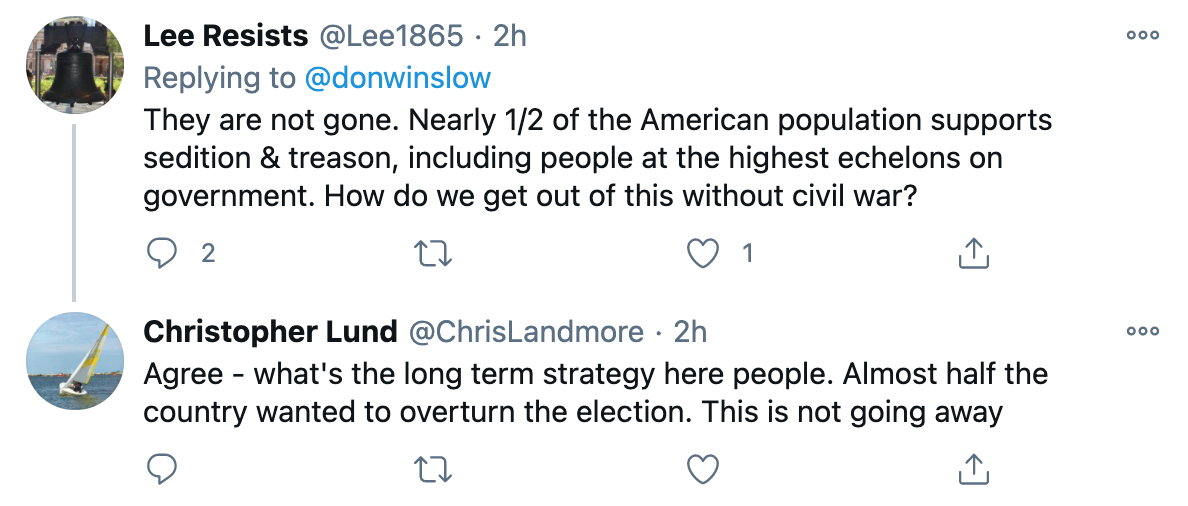 This is only the very first step in Censorship, they will be coming hard and fast for Trumps 75,000,000 supporters and the Blue Check Marks are are leading the charge.
They are planning another attack. The President and his conspiracists need to be arrested.

People like Donald and Cruz and Hawley and Brooks and McCarthy have no shame or decency or dignity. It is pointless to call on them to resign and they shouldn't have the option. Impeach/convict, censure/expel. We cannot blow this—everything is at stake.

Raise your hand if you think EVERY insurrectionist should lose the right to own or bear a weapon, in addition to being placed on the no-fly list.

I am no longer a member of the Republican Party. I tried in vain to be a moderating voice as a voting delegate to the CAGOP and have fought against the worst elements of the GOP with ProjectLincoln. But enough is enough. I cannot abide what it has become.

We must ensure that Donald Trump can never hold public office again.

Inbox: New York State Bar Association moves to remove Rudy Giuliani from membership
StreetLoc is one of America's fastest-growing Social Media companies. We do not employ woke kids in California to "police" your thoughts and put you in "jail".
StreetLoc is designed for Family, Friends, Events, Groups, Businesses and People.
JOIN TODAY