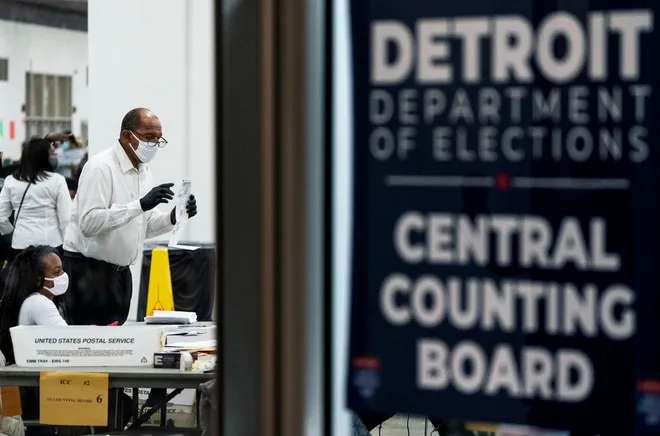 Lawsuit - Detroit Officials Knowingly Committed Mass Voter Fraud
Poll watchers in Wayne County have filed a lawsuit against the City of Detroit and several elections officials alleging widespread voter fraud has been taking place in and around the Detroit elections offices.
A new batch of allegations claim Detroit and Wayne County election officials purposely cheated the system with "systematic fraud" to swing the election for Joe Biden.
A handful of TCF Center poll challengers – including a 2018 candidate for governor – along with a city of Detroit employee alleged numerous issues with last week's absentee ballot counting process in a lawsuit filed against Detroit and Wayne County on Sunday, according to a news release from the plaintiffs' attorney.
The allegations range from restrictions on poll challengers to late arriving batches of absentee ballots to the encouragement of early voters to cast their ballots for Democratic presidential candidate Joe Biden. Election officials have said they allowed the maximum number of poll watchers for both Democrats and Republicans, only restricting access to any additional poll watchers because of COVID-19 concerns.
The suit, filed by the Great Lakes Justice Center, seeks an independent audit of the election, a halt to the certification of Wayne County votes, an order voiding the county's election results and the initiation of a new election in Wayne County. 
Besides the affidavits, no actual evidence of the alleged issues was presented.
On Saturday, the Associated Press and other media organizations determined Democratic presidential nominee Joe Biden had enough electoral votes to defeat President Donald Trump and secure the presidency. In Michigan, unofficial results show Biden received approximately 146,000 more votes than Trump. 
Detroit and Wayne County are historically Democratic strongholds. However, unofficial results show Trump earned about 5,000 more votes in Detroit this year than in 2016, part of the 36,000 more votes he received in Wayne County this year compared to the last presidential election.
The Trump campaign, both in Michigan and nationally, continues to argue there may have been widespread problems with vote processing and tabulating. On Friday, Republican National Committee Chairwoman Ronna McDaniel said Michigan Secretary of State Jocelyn Benson was being "dishonest" about GOP poll workers being at TCF and alleged irregularities in Detroit. She did not provide evidence, but said she had referred information to federal prosecutors and asked anyone with proof to contact the Republican Party.
StreetLoc is one of America's fastest-growing Social Media companies. We do not employ woke kids in California to "police" your thoughts and put you in "jail".
StreetLoc is designed for Family, Friends, Events, Groups, Businesses and People.
JOIN TODAY