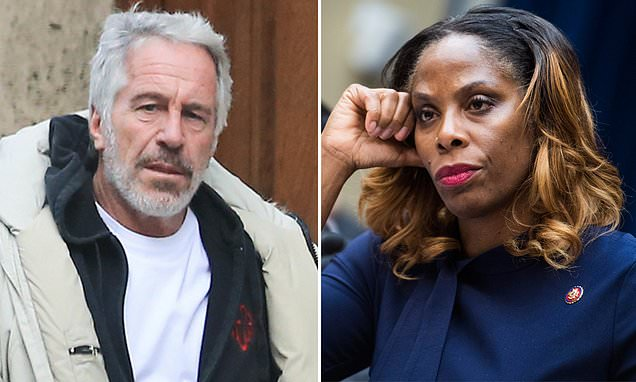 Democrat Congresswoman 'WILL' keep Funds donated to her political campaigns by disgraced Jeffrey Epstein
U.S. Virgin Islands Congresswoman 'WILL' keep $8,100 donated to her political campaigns by disgraced Jeffrey Epstein despite claims he sexually abused underage girls. Did she facilitate anything for Jeffrey Epstein?
Representative Stacey Plaskett is likely to keep Epstein's campaign donations
The political financer stands accused of abusing underage girls
Plaskett of the Virgin Islands reportedly received three donations of $2,700 
A spokesperson said she is 'unlikely' to return the funds which amount to $8,100
Bill Clinton, other Democrats and Harvard were also listed as receiving funds
Epstein pleaded not guilty to the 2002 - 2005 charges and was held without bail
Epstein on Monday pleaded not guilty in Manhattan federal court to sex-trafficking charges in a conspiracy that allegedly let him abuse underage girls from 2002 through 2005.
The crimes allegedly committed over that four-year span happened inside his Manhattan townhouse and an estate in Palm Beach, Florida.
The indictment alleges employees of Epstein's helped recruit underage girls, whom Epstein would then sexually abuse.
Other Democrats have routinely received financial backing from Epstein, including former President Bill Clinton.
From the late 1990s through 2004, Epstein donated more than $145,000 to Democrats running for office.
Read the full article on DailyMail.
#StaceyPlaskett #JeffreyEpstein #Democrat #Congresswoman #ChildAbuse #BillClinton
StreetLoc is one of America's fastest-growing Social Media companies. We do not employ woke kids in California to "police" your thoughts and put you in "jail".
StreetLoc is designed for Family, Friends, Events, Groups, Businesses and People.
JOIN TODAY