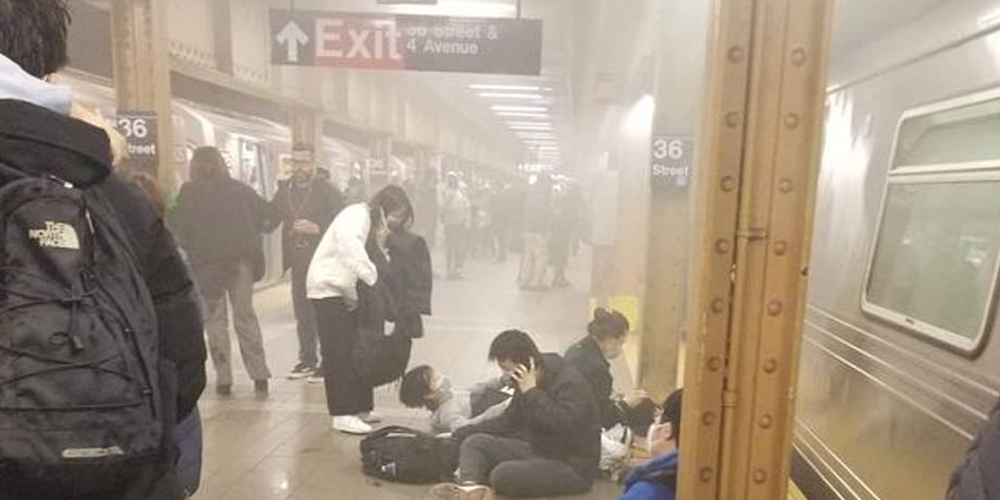 Black Man in Gas Mask and Orange Construction Vest Shoots Commuters in Brooklyn, NYC rush hour.
Black man in gas mask and orange construction vest shoots at least five commuters after throwing smoke bomb inside subway train at Brooklyn station during morning rush hour: Schools lock down as cops hunt shooter
At least five people were shot at around 8.30am at the 36th Street station in Sunset Park, Brooklyn, on Tuesday; a total of 13 were injured
The FDNY says multiple undetonated devices were found at the scene but all are smoke bombs
The NYPD is now hunting for a suspect wearing a gas mask and orange construction vest 
Witnesses say they thought he was an MTA worker when he dropped a smoke bomb and started shooting 
Social media photos show victims lying on the platform with blood pouring from their legs
Elementary schools near the shooting went into lockdown on Tuesday as cops hunted the suspect  
StreetLoc is one of America's fastest-growing Social Media companies. We do not employ woke kids in California to "police" your thoughts and put you in "jail".
StreetLoc is designed for Family, Friends, Events, Groups, Businesses and People.
JOIN TODAY