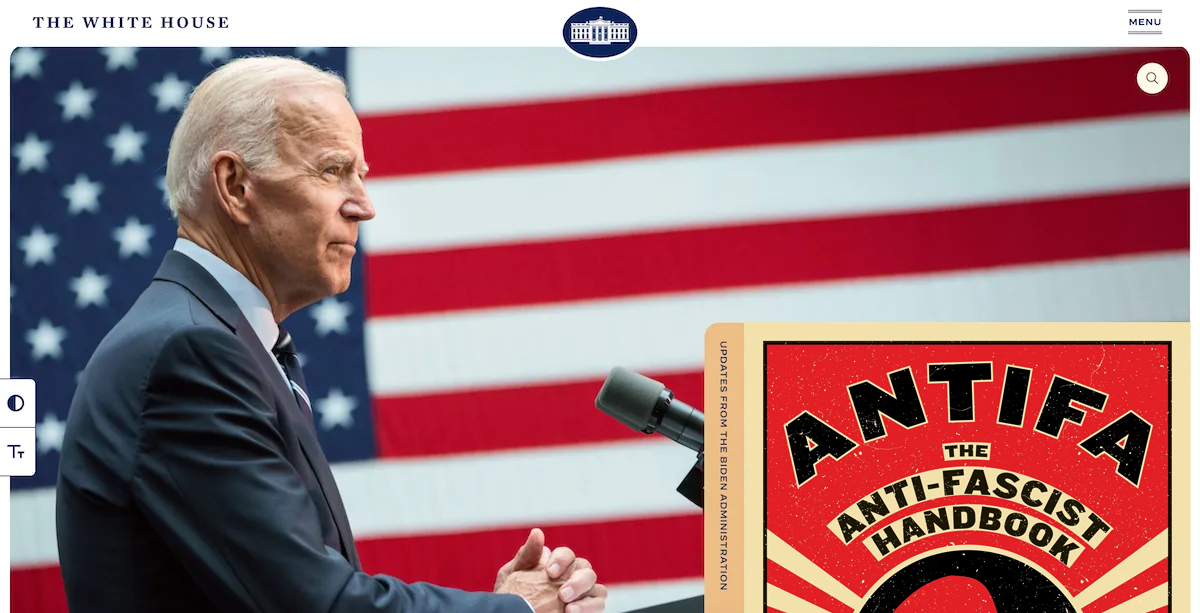 Antifa.com - Who Owns the Domain Name - Whois Antifa
Hours after Joe Biden's inauguration, conservative personalities started pointing out that the antifa.com website now redirects to the White House website, this caused the alt-left media and fact checking organizations to spin up press releases and talking points obfuscating any factual discussion surrounding ownership of the domain name.
Alt-left Media and Factcheckers
In August 2020, the antifa.com URL began redirecting users to joebiden.com, the official campaign website for U.S. Democratic Presidential Candidate Joe Biden. The redirect link has regularly been changed and pointed users to other websites, including kamalaharris.org and the self-described anarchist website itsgoingdown.org.
According to the Internet Archive's Wayback Machine, the antifa.com domain name started forwarding to Joe Biden's official transition website, BuildBackBetter.gov sometime earlier this month. Then, on January 20, antifa.com began redirecting to WhiteHouse.gov.
Antifa The Spin.
Snopes: "There are no apparent links between any of the website redirects and the Joe Biden campaign (anyone who owns or has access to a domain can establish either a temporary or permanent URL redirect, which essentially tells a search engine that the page has moved)."
Mashable: "Does this mean that the Biden administration owns the domain name "antifa.com?" Or is an official antifa entity showcasing their support for the new Democratic administration? No.
It doesn't likely mean anything, since anyone who owns any domain name can redirect it to any website. A domain name owner does not need any sort of affiliation, connection, or permission from a website owner to do so."
Politifact: "The post is partially accurate — the domain does redirect to the White House's website — but in implying that Biden's White House is involved, it leaves out important details or takes things out of context."
Joe Biden: "Democratic presidential nominee Joe Biden defended far-left anarchist movement Antifa as "an idea, not an organization" and said white supremacists pose a greater danger to the country during the first presidential debate."
WallStreetJournal: "What is antifa? "An idea, not an organization," Joe Biden said during the first presidential debate. "When a bat hits you over the head, that's not an idea," President Trump countered. "Antifa is a dangerous, radical group." Both men are right—Mr. Biden that antifa is foremost an ideology, and Mr. Trump about its propensity for violence."
What is Antifa
Biden claims that Antifa is an unstructured movement known for using counterprotests and physical force to stand against fascists and racists. The existence of the movement is incontestable, but observers debate whether it is dangerous. 
Wikipedia describes Antifa as a left-wing anti-fascist and anti-racist political movement in the United States. It is highly decentralized and comprises an array of autonomous groups that aim to achieve their objectives through the use of both nonviolent and violent direct action rather than through policy reform.
In September 2017, Politico obtained confidential documents and interviews indicating that the Department of Homeland Security (DHS) and the Federal Bureau of Investigation (FBI) believed that "anarchist extremists" were the primary instigators of violence at public rallies against a range of targets in April 2016.[129]
In July 2020, FBI Director Christopher A. Wray, who stated in an earlier press release[130] on June 4 that "anarchists like Antifa" are "exploiting this situation to pursue violent, extremist agendas",[131] testified to the Senate Judiciary Committee that the agency "considers antifa more of an ideology than an organization"[21] which was later reiterated the same year in a September 17 remark to lawmakers.
Who Owns Antifa.com
Someone has gone to great lengths to hide the individual/s or organization behind Antifa.com, and both alt-left and mainstream media as well as corporations providing services to antifa.com are unwilling or reluctant to investigate ownership of the domain. 
While Democrats and the media investigated Parler.com, they do not appear to be as interested in applying the same scrutiny to antif.com 
Antifa.com ownership and hosting
According to ICANN  a not-for-profit public-benefit corporation with participants from all over the world dedicated to keeping the Internet secure, stable and interoperable, the Internet Service Provider, NameCheap.com provides DNS services to antifa.com stating that the Domain is owned by through the international tax haven of Panama. 
Registrar Information
Name: NAMECHEAP INC
Authoritative Servers
Domain History
We have 373 historical records for Antifa.com.
The oldest record dates back more than 18 years.
There are at least 220 significant changes.
About 38% of the records publish domain name ownership data; the rest use a privacy or proxy service.
Will Main-Stream Media ever investigate the ownership of the domain name?

Antifa.com Russian Registration History
Up to May 25, 2019, Antifa.com listed Saint Petersburg, Russia as it's registrant address.
Domain Name: ANTIFA.COM

Registry Domain ID: 85915752_DOMAIN_COM-VRSN

Registrar WHOIS Server: whois.libris.com

Registrar URL: http://libris.com

Updated Date: 2019-04-29T10:08:21Z

Creation Date: 2002-04-24T08:35:11Z

Registrar IANA ID: 381

Registrar Abuse Contact Email: abuse@registrar.libris.com

Registrant Name: Whois privacy services provided by DomainProtect LLC

Registrant Organization: Whois privacy services, provided by DomainProtect LLC

Registrant Street: c/o Office-Mail processing center Sadovaya, 53

Registrant City: Saint Petersburg

Registrant State/Province: Saint Petersburg

Registrant Postal Code: 190068

Registrant Country: RU
It would serve us well to remember a quote from Abraham Lincoln: "America will never be destroyed from the outside. If we lose our freedoms it will be because we have destroyed ourselves from within." Wake up and unite, America; the values you cherish are in peril.  
StreetLoc is one of America's fastest-growing Social Media companies. We do not employ woke kids in California to "police" your thoughts and put you in "jail".
StreetLoc is designed for Family, Friends, Events, Groups, Businesses and People.
JOIN TODAY