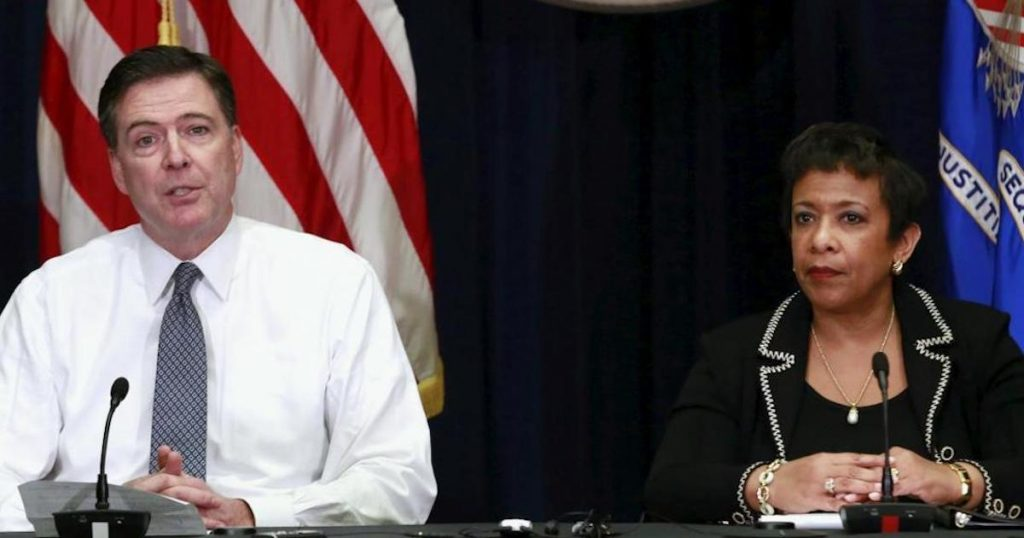 Lynching, James Comey amid probe of Russia investigation's origins!
One of them is lying.
Former Attorney General Loretta Lynch denied to congressional investigators last year that she ever instructed former FBI Director James Comey to minimize the Hillary Clinton email investigation by urging him to call it a "matter" instead of an "investigation."
"I did not. I have never instructed a witness as to what to say specifically. Never have, never will," Lynch told a joint task force of the House Oversight and Judiciary committees.
Comey was not a "witness" he was the "investigator", Lynch has never "specifically" told a "witness" what to say, meaning she has likely coached and guided witnesses without providing specific statements. 
The question remains, did Lynch specifically, urge Comey to to call it a "matter" instead of an "investigation?"
Lynch has said she was "quite surprised" with how Comey would described their conversation "because that was not how it was conveyed to him, certainly not how it was intended."
On "America's Newsroom" Tuesday, Huckabee reacted to the news that former Attorney General Loretta Lynch accused ex-FBI Director James Comey of mischaracterizing her statements while being under oath.
Former Arkansas Gov. Mike Huckabee said former law enforcement officials are "turning on each other" amid Attorney General Bill Barr's investigation into the potential misconduct by the FBI in its probe of the Trump campaign in 2016. 
"She basically called him a liar. That's something that he has been called a lot over the past few months by people who have looked at what he said and how it contradicts other things he said. I think what we're seeing is that this whole issue is now moving from a political theater to a legal theater," Huckabee said.
"That means the rules are changed. When it was about the political rhetoric people could say whatever they want," Huckabee continued.
James Comey told the Senate Intelligence Committee in 2017 that Lynch "directed" him to call the investigation a "matter" during a September 2015 meeting. Comey brought it up in the context of describing his decision to do a press conference in the summer of 2016 in which he recommended no criminal charges against Clinton but called her handling of classified information "extremely careless." 
Why is the Mainstream Media ignoring this story?
#Comey #Lynch #Huckabee #Clinton
StreetLoc is one of America's fastest-growing Social Media companies. We do not employ woke kids in California to "police" your thoughts and put you in "jail". StreetLoc is designed for Family, Friends, Events, Groups, Businesses and People.
JOIN TODAY