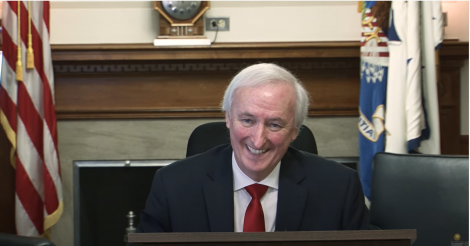 Soon-to-be acting Attorney General Jeffrey A. Rosen, commented in August of this year, on Election Fraud, his comments were published on Justic.gov in an article entitled: "Remarks of Deputy Attorney General Jeffrey A. Rosen on Malign Foreign Influence in U.S. Elections Presented at Center for Strategic and International Studies."  Washington, DC. Wednesday, August 26, 2020.
WATCH: Deputy Attorney General Jeffrey Rosen gave remarks on the threat of foreign malign influence operations and election security during a Center for Strategic and International Studies (CSIS) event titled, "Combatting Malign Influence in 2020."
Here is a Excerpt from his comments:
The 2020 Landscape

At this point, I want to touch briefly on the current threat landscape as we head toward Election Day.  The department of Justice, DHS, and other federal agencies, have engaged in an unprecedented level of coordination with and support to all 50 states and numerous local officials to ensure that their election infrastructure is secure.  We have yet to see any activity intended to prevent voting or to change votes, and we continue to think that it would be extraordinarily difficult for foreign adversaries to change vote tallies.

We do, however, continue to see malign foreign influence efforts relevant to the 2020 presidential election.  Some foreign actors are covertly trying to undermine confidence in our elections because they are authoritarian governments opposed to representative democracy.  As the Office of the Director of National Intelligence (ODNI) recently made public on August 7, some foreign governments have preferences about our election — and have taken or planned malign activities in support of their preferences — including efforts by China and Iran to undermine President Trump and his Administration's policies and efforts by Russia to undermine former Vice President Biden.  The Intelligence Community, including the FBI, have briefed Congress, as well as both presidential campaigns, about these threats.  ODNI also has also taken unprecedented steps to educate the public about these threats to "better inform Americans so they can play a critical role in safeguarding our election." 

We are working to counter all of these influence activities.  But it is important to remember that there are times when drawing attention to the threats can be precisely what the bad actors want, to generate concern and distrust, division and discord.  And as Americans, we need to avoid the temptation to seek political advantage from the revelation of influence activities that were meant to divide us. 

Instead, the right response is for our electorate to be knowledgeable and careful about the sources of information they rely on, to look for accurate information, to inform themselves about the candidates, and to cast their ballots accordingly.  In the words of Thomas Jefferson, "I know no safe depository of the ultimate powers of the society, but the people themselves."  So let me offer some final thoughts about what the historical records tells us that Americans can do to protect ourselves from the malign influence efforts of foreign governments, in addition to the strong measures being taken by the Justice Department and other government agencies.      
You can read the full essay on the justice.gov website: