Ideas For Living Rooms Chic Designs With Fireplaces
Decorating a living room is more than just how it looks since it serves to amuse everyone. It is also about the mood within. All of your family members, friends, and incoming guests should want to spend hours in your living room, which means the décor should make it appear and feel welcome at the same time
Colors, furniture, décor objects, and all other aspects of the space should be able to complement one another to produce an excellent overall look and a pleasant vibe. You must constantly pay close attention to each detail so that you do not wind up with an uninviting living space.
Adding a fireplace to your living room is always a fantastic approach to improve its beauty and comfort. It works extremely nicely as another focal point in the room while suitably warming up the tone within. Of course, your living room will become a really delightful place that everyone will love. Today, you can discover a variety of fireplaces that appear really appealing. They are so nicely created that they will adorn your living space in a really impressive way.
Ideas For A Living Room Decoration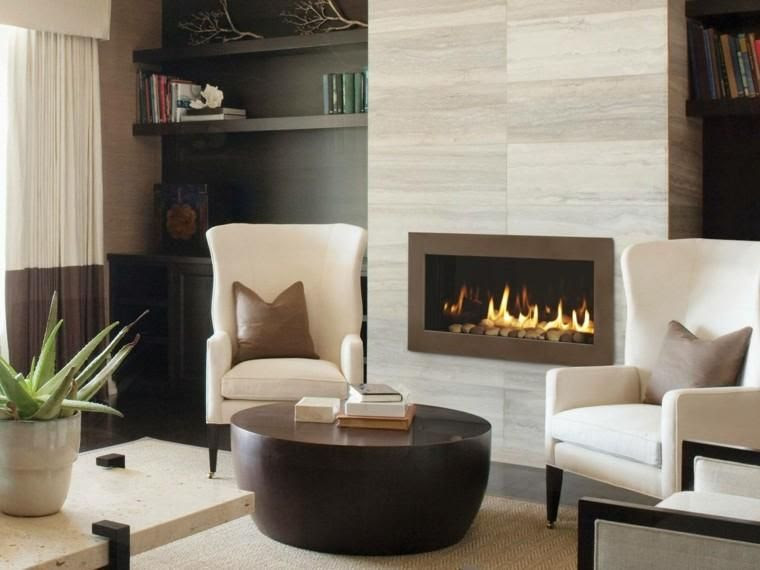 Chic Farmhouse Design For A Living Room With A Fireplace
This fireplace's mantel's combination of exposed white brick and wood planks is ideal for decorating your rustic living area. The fireplace itself is constructed of black-finished steel. With the old rustic style, it looks really elegant.
Minimalist Earthy Design For A Living Room With A Fireplace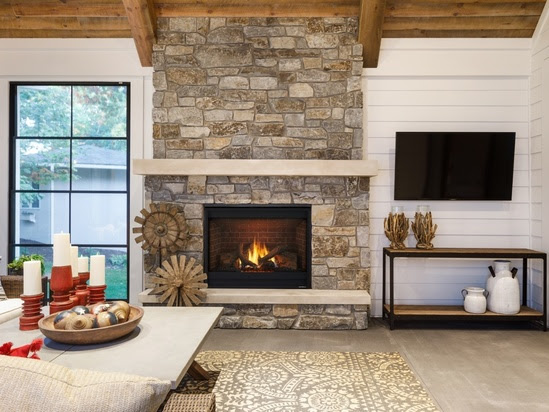 The accent wall of this living room, which also serves as the fireplace mantle, is covered with greyish slates. It adds a lovely rustic touch with a contemporary edge that is enthralling. A rectangular fireplace constructed of black steel adds a strong and beautiful accent.
Simple And Eye-catching Design For A Living Room With A Fireplace
The magnificent tiles with antique rustic design in blue cover the fireplace of this lovely living room. It adds to the appeal of the fireplace's basic design, which is completed in black. It is, without a doubt, a really inspirational concept that you can build entirely on your own.
Stunning Rustic Design For A Living Room With A Fireplace
Another lovely fireplace to decorate your living room in a farmhouse style, this one has an exposed brick aspect with a natural finish. The fireplace stands out against the white background of the room. Some décor pieces embellish the wood plank shelf of the fireplace to make it appear more appealing.
Elegant Earthy Design For A Living Room With A Fireplace
The mantel of this fireplace is made of wood planks with a natural finish, which adds a rustic touch to the overall aesthetic of the space. Its sleek and clean-lined design makes it ideal for those with a modern living room décor. The fireplace itself is painted black, and the greyish brick interior adds to the rustic feel.
Stylish Corner Design For A Living Room With A Fireplace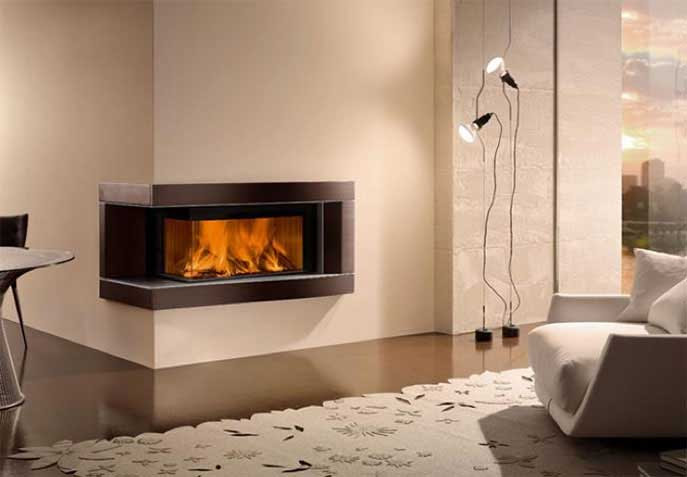 A corner fireplace in modern design is always appropriate for you if you have a living room with a minimalist decorating style, as demonstrated by this suggestion. The fireplace is encircled with sleek glass, which adds an aesthetic appeal to the overall design of the space. Even if it is very tiny, it is sufficient to warm the surrounding environment.
On the accent wall with a rustic style, a fireplace with a black steel frame is built, adding a wonderfully exquisite touch. The fireplace's clean form complements the room's minimalist décor well. Its finish matches the furniture and accessories, creating a unified overall design.
Stylish Rustic Design For A Living Room With A Fireplace
This fireplace's structure is built in an exposed brick style that is finished in white, giving it a stylish rustic touch that nicely compliments the room's backdrop color. The fireplace's black finish adds an exquisite and dramatic touch to its overall appearance. Some adorable décor pieces also dress up the mantel, making it appear more appealing.
A Bold Rustic Design For A Living Room With A Fireplace
The major focal point of this living room with neutral color schemes is a black-painted fireplace with an exposed brick design. It complements the old furniture and décor objects that beautifully adorn the space. Are you still seeking more inspiration? We still have a bunch of them below, and you can check them out by just scrolling down!
StreetLoc is a Facebook styled Social Media Platform, we are not an Adult-Day-Care, managed by woke kids.
Designed for Family, Friends, Events, Groups, Businesses and People.
JOIN NOW
Sign up - Join StreetLoc.