New CNN poll has Biden leading Trump by 16 points nationally
Inspiringly CNN is still running national polls and they deliver solid results for Biden in 2020, just like they did for Clinton in 2016. 
Here are the results:
Biden is leading Trump by 16 points nationally
Biden ahead among all age groups, including by 21 points among seniors.
Biden leads among white voters overall (51 to 47), but Trump continues to maintain a strong lead among white men with no college degree.
57% of debate watchers say Biden won (26% say Trump won, 14% say neither). 
91% of Biden supporters say Biden won the debate. Only 59% of Trump supporters say Trump won.
CNN claims it's margin of error varies between 3.6% and 9.8%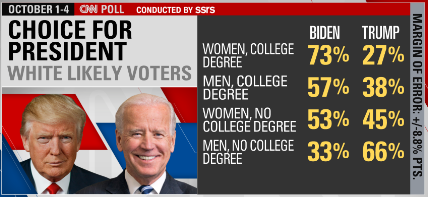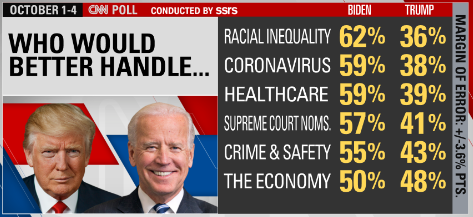 Join StreetLoc - Personal Account