Australian Prime Minister Scott Morrison Kicks Novak Djokovic Out of Country
Novak Djokovic had his visa canceled following a 12-hour standoff with government officials at a Melbourne airport Thursday morning and was ordered to leave the country immediately after being detained. 
The world's No. 1-ranked men's tennis player had flown from Dubai in to participate in the Australian Open, for which he said he had received an exemption from a coronavirus vaccine requirement.
Australians had reacted angrily to news that tennis player Novak Djokovic would play in the Australian Open, after being exempted from vaccination rules.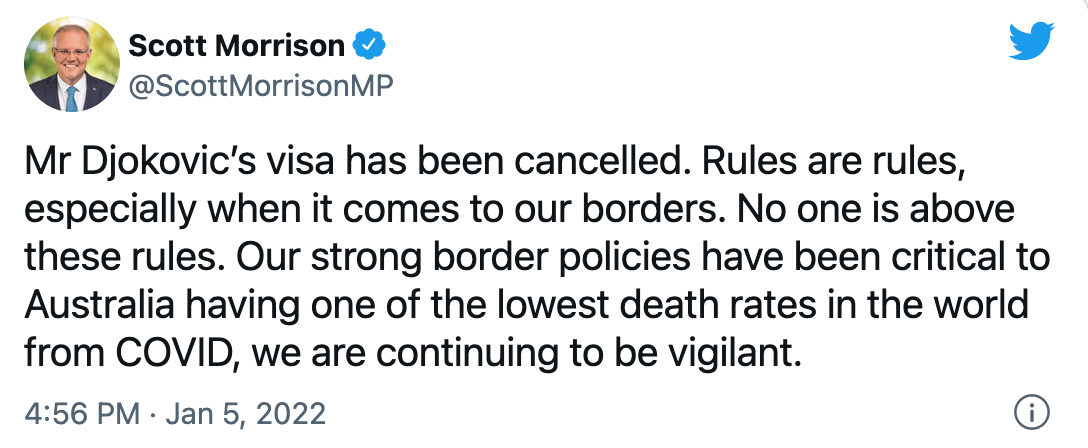 Morrison's comments seemed to represent a change in his position, after he said on Tuesday that the Victoria state government had provided the player with an exemption to enter the country and that officials would act "in accordance with that decision".
Many Australians had previously accused the government of allowing the rich and famous to do as they please while ordinary people remained separated from sick and dying loved ones.
StreetLoc is one of America's fastest-growing Social Media companies. We do not employ woke kids in California to "police" your thoughts and put you in "jail".
StreetLoc is designed for Family, Friends, Events, Groups, Businesses and People.
JOIN TODAY