Durham is Dropping his investigations Into Spygate, worried about blowback from Biden
Prior to the 2020 Election Trump had long been hoping that the Durham ongoing investigation would release his report which would damage Democrats, including Joe Biden, and help him win reelection. 
In Trump's terminology, Durham's report would reveal an "attempted overthrow" of his administration by Democratic insiders.
Justice Department guidelines restrict prosecutors from releasing any reports within 60 days of an election because they might affect the outcome of the election. Both Durham and Dannehy believed that if they complied with Barr's demands they would be violating this doctrine, according to two people familiar with their thinking.
After hearing there would be no October surprise, Trump excoriated Barr, telling Rush Limbaugh: "I think it's a terrible thing, and I'll say it to his face."
Durham Investigation Insiders Say 'No Evidence' to Support Obamagate Has Been Found in 18 Months.
Now it appears we will not be seeing a report from Durham, at all!
The Federalist's Sean Davis  reports on Twitter: A source familiar with Durham's ongoing investigation of the bogus Russian collusion operation tells @FDRLST: "Durham isn't doing anything. Dropping his investigations. He's worried about blowback from Biden. What an absolute disgrace."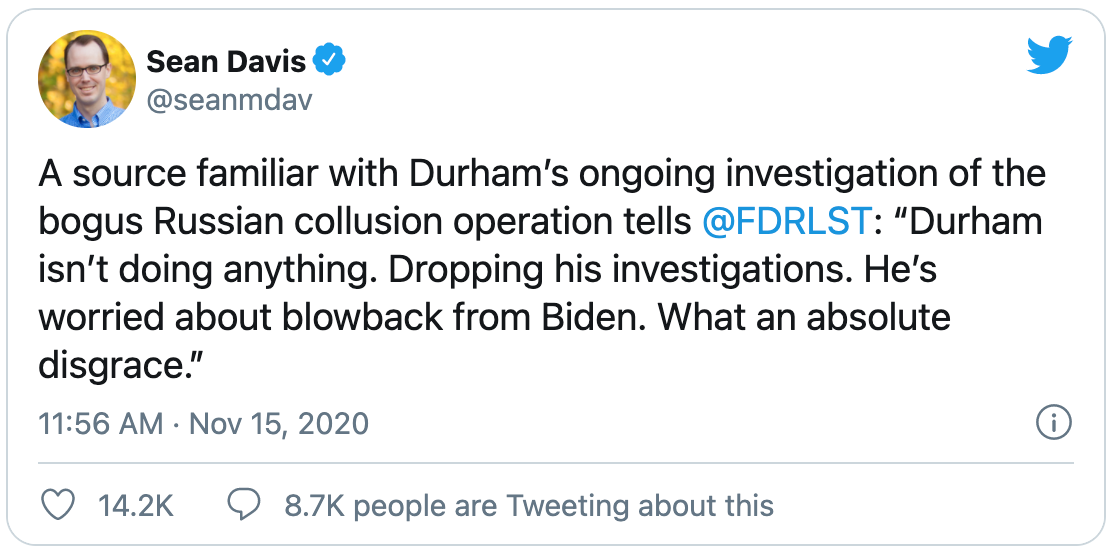 In May 2020, Attorney General William Barr had doubled down on spying claims, questions origins of Russia probe.
In two separate interviews, Barr doubled down on his assertion that illegal spying did take place, a claim he made before senators. In a conversation with Fox News' Bill Hemmer on "America's Newsroom," Barr suggested that he wanted to get to the bottom of whether "government officials abused their power and put their thumb on the scale" during the Russia investigation. He criticized unnamed officials as providing "inadequate" explanations for what took place.
"People have to find out what the government was doing during that period," said Barr, adding that if the U.S. government is concerned about foreign influence in the U.S. election process, it should be equally worried about potential abuses of power within the federal government. Barr said he wouldn't "speculate" on when such alleged spying exactly started.  
Join StreetLoc - Personal Account