Michigan's Largest County fails to Certify Election Results - Wayne County Board Deadlocked
"Enough evidence of irregularities and potential voter fraud was uncovered resulting in the Wayne County Board of Canvassers refusing to certify their election results in Wane County, Michigan's Largest County.
Projected winner Joe Biden won 68% of the vote in Wayne county, which includes the city of Detroit, where more than 850,000 ballots were cast, according to official results posted by Fox news. Biden won the state by roughly 146,000 votes, or 2.7% of the total.
The Wayne County Board of Canvassers deadlocked 2-2, with both Republican members refusing to certify the results after discrepancies were discovered in absentee ballot poll books. Similar problems were discovered in the county's summer primary and the November 2016 election but did not impact the board's vote then.
Under Michigan law, a county that fails to canvass within 14 days after the election must yield its documentation to the Secretary of State's office and Board of State Canvassers to determine if the results should be accepted.
The dramatic deadlock came just a week after a city of Detroit elections worker named Jessy Jacob submitted an affidavit saying she personally witnessed and was instructed by supervisors herself to back date absentee ballots the day after the election to make votes look like they had arrived on or before Nov. 3. Jacob testified she believed thousands of ballots had been altered.
Democrats immediately played the race card, "because of the racial dynamics involving one of the nation's best known majority-Black cities."
Mark Brewer, a leading Democratic election lawyer in Michigan, called the vote "outrageous, unprecedented and racist."
He said the two White Republicans on the Wayne County board "have essentially disenfranchised Black voters."
The Trump campaign has claimed in a federal suit that GOP observers witnessed irregularities in the ballot count — allegations that city officials have vigorously denied.
The dispute has taken center stage in the effort mounted by President Trump and his allies to Overturn Election Results in Multiple States.
Jenna Ellis, a senior legal adviser for the Trump campaign, Tweeted: "If the state board follows suit, the Republican state legislator will select the electors. Huge win for @realDonaldTrump," she tweeted.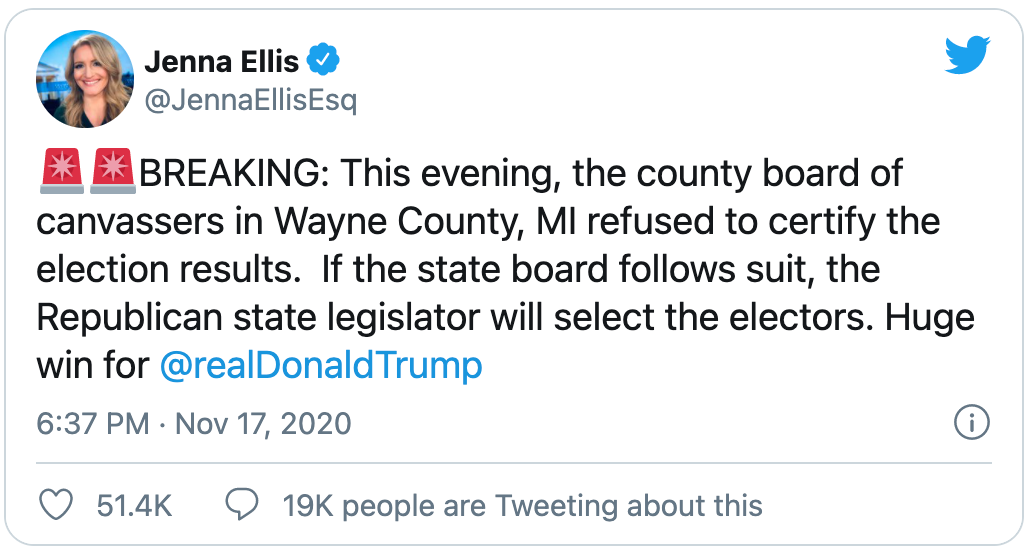 Join StreetLoc - Personal Account