BREAKING: Trump campaign puts $3 Million behind Wisconsin recount in target counties
The Trump campaign has filed a petition to recount two counties in Wisconsin - Milwaukee and Dane - alleging that absentee ballots were altered and improperly issued, and that voter ID laws were circumvented.
The two counties were selected because they are the locations of where the campaign says had the worst irregularities.
Overnight, the campaign transferred $3 million to Wisconsin to cover the estimated cost of the recounts. 
The state election commission said the Trump campaign sent a wire transfer, but noted they did not send a formal petition to request a recount.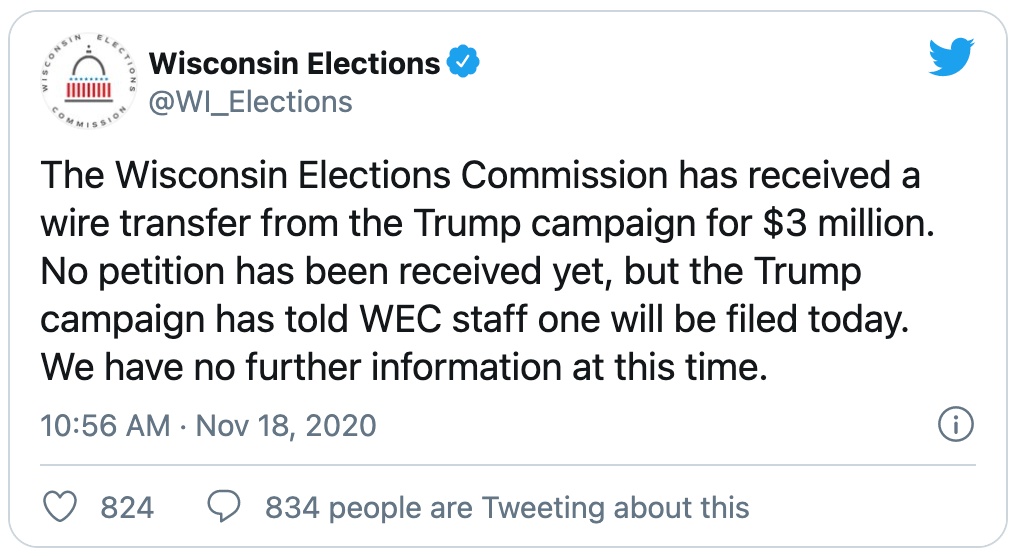 Dean Knudson, the State Elections Commissioner, also confirmed the campaign transferred $3 million as the deadline to file a recount petition is 5 p.m. Wednesday.
On Tuesday, canvassed vote results were submitted from all 72 counties in Wisconsin. They show that President-elect Joe Biden beat President Trump by 20,608 votes.
Join StreetLoc - Personal Account