Nancy Pelosi Impeached President Trump to hide Child Rapist Brother Exposed by January, 06 FBI Report
The real reason Nancy Pelosi was making a spectacle out of impeaching President Donal Trump for a second time, was likely to burry a damming FBI report on her brothers rape of a child with 14 other men while her connected father  as the corrupt and incompetent mayor of Baltimore, used his government and mob connections to ensure his son was the only one acquitted of the charges.
On Wednesday night, the FBI Quietly Released a 284-page Report on Nancy Pelosi's Corrupt Father Exposing Her Brother as a Repeat Child Rapist.
Wondering why this didn't get much news coverage? The FBI released the 284-page report while the media was busy hyperventilating about the purported insurrection at the US Capitol Wednesday night, January 6, 2021. After that not one main stream media publication picked up or reported on it, if this was Trump this would have been in the news for weeks and cry's of wrong doing would abound forever. 
You can read read the FBI report here, this is just part ONE. Not one Mainstream News Publication has reported on this. 
Late Wednesday night, the FBI declassified hundreds of documents related to Nancy Pelosi's father and former mayor of Baltimore Thomas D' Alesandro Jr., who had known mob connections and later paved the way for his corrupt relatives to ascend to office, namely his daughter and son. 
During the Summer of 1953, Mayor D'Alesandro's son, Franklin D. Roosevelt D"Alesandro, (a retired city courthouse clerk and brother of House Speaker Nancy Pelosi) aged twenty, was one of fourteen youths charged with having committed rape or perverted practices on two girls, aged eleven and thirteen, during July of that year.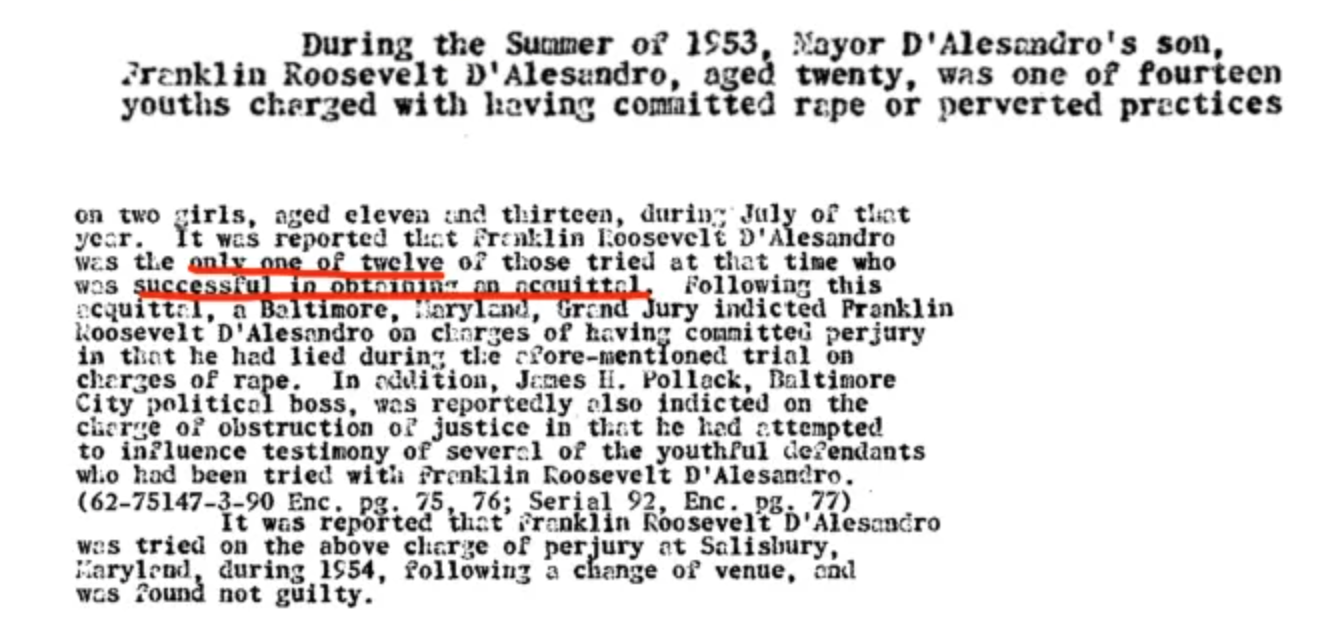 D'Alesandro's son, Franklin Roosevelt D"Alesandro, was one of a number of individuals arrested on a rape charge in 1953.

Franklin D. Roosevelt D"Alesandro, a retired city courthouse clerk and brother of House Speaker Nancy Pelosi, died of cancer Wednesday at a Baltimore-area hospice. He was 73. Baltimore Sun Feb 22, 2007.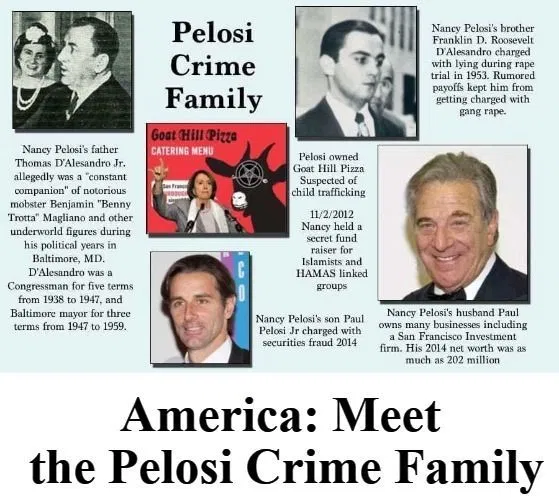 Significant portions of the report are completely whited out — even the part of the family tree where daughter Nancy Pelosi should be. 
Join StreetLoc - Personal Account